Click me for Best Sellers Fiction
Click me for Best Sellers Non-Fiction
Click me for Best Sellers Children's
Best Sellers Fiction
Marlborough Man
Alan Carter
Marlborough Man is an unrelenting, incredibly readable book that will hold you through a whole day. I couldn't help myself and read it compulsively, while lazing about on a recent Sunday. Taciturn Sergeant, Nick Chester, is hiding in the stunning Marlborough Sounds after an undercover mission has gone awry in his native UK, but he knows his pursuers will not relent. Anticipating his last breath at every moment, he begins to uncover the dirty secrets of sleepy Havelock, a town with its own troubled past. Carter has paced this novel brilliantly, and when Nick Chester's nightmare moment arrives, the crescendo is breathtaking. In fact, you'll find yourself exhausted by the thrill
Big Little Lies
Liane Moriarty
Pirriwee Public's annual school Trivia Night has ended in a shocking riot. A parent is dead. Was it murder, a tragic accident… or something else entirely? Big Little Lies is a funny, heartbreaking, challenging story of ex-husbands and second wives, new friendships, old betrayals and and schoolyard politics. "Irresistible … Moriarty's sly humor and razor-sharp insights will keep you turning the pages to find out." People.
Accompanies the HBO series starring Nicole Kidman and Reese Witherspoon.
A Boy in Winter                                                                                                                                                                                                                            Rachel Seiffert

Early on a grey November morning in 1941, only weeks after the German invasion, a small Ukrainian town is overrun by the SS.Deft, spare and devastating, Rachel Seiffert's new novel tells of the three days that follow and the lives that are overturned in the process.Penned in with his fellow Jews, under threat of transportation, Ephraim anxiously awaits word of his two sons, missing since daybreak.Come in search of her lover, to fetch him home again, away from the invaders, Yasia must confront new and harsh truths about those closest to her.Here to avoid a war he considers criminal, German engineer Otto Pohl is faced with an even greater crime unfolding behind the lines, and no-one but himself to turn to.And in the midst of it all is the determined boy Yankel who will throw his and his young brother's chances of surviving to strangers.A Boy In Winter is a story of hope when all is lost, and of mercy when the times have none. Monday Morning Book club read for July
The Ministry of Utmost Happiness                                                                                                                                                                                               Arundhati Roy
'How to tell a shattered story? By slowly becoming everybody. No. By slowly becoming everything.' In a city graveyard, a resident unrolls a threadbare Persian carpet between two graves. On a concrete sidewalk, a baby appears quite suddenly, a little after midnight, in a crib of litter. In a snowy valley, a father writes to his five-year-old daughter about the number of people that attended her funeral. And in the Jannat Guest House, two people who've known each other all their lives sleep with their arms wrapped around one another as though they have only just met. Here is a cast of unforgettable characters caught up in the tide of history. Told with a whisper, with a shout, with tears and with laughter, it is a love story and a provocation. Its heroes, present and departed, human and animal, have been broken by the world we live in and then mended by love — and for this reason, they will never surrender.
Stars are Fire
Anita Shreve
 1947. After a summer-long drought, fires are racing along the coast of Maine, ravaging two hundred thousand acres – the largest fire in the state's history.Five months pregnant, Grace Holland is left alone to protect her two toddlers when her husband Gene joins the volunteers fighting to bring the fire under control. Along with her best friend, Rosie, and Rosie's two young children, the women watch in horror as their houses go up in flames, then walk into the ocean as a last resort. They spend the night frantically trying to save their children. When dawn comes, they have miraculously survived, but their lives are forever changed.

Non Fiction Best Sellers
Engaging Adolescents
Michael Hawton
A practical, skills-based guide to parenting teenagers through difficult issues, written by a psychologist with over 30 years experience and based on accepted mediation principles. Offers a clear, method-based approach to resolve conflict and help teenagers better manage their own behaviour.
In The Light and the Shadow                                                                                                                                                                                                      Mark Colvin

We were very saddened to hear of the passing of Mr Colvin recently. Mark visited us late last year to launch this heartfelt, wide ranging and intimate memoir of his life and he was such a generous and magnanimous guest. Late in life, Mark's father revealed his career in espionage to his mature son, a budding young Foreign Correspondent. This is the story of Mark's childhood, spent in many locales, and the story of his career. Bubbling over with his many enthusiasms, frustrations and insights into journalism and diplomacy, this is a very treasured memoir of a great man.
No is Not Enough
Naomi Klein
Trump, as extreme as he is, is less an aberration than a logical conclusion – a pastiche of pretty much all the worst and most dangerous trends of the past half century. A one-man megabrand, with wife and children as spin-off brands . . . ' Remember when it all seemed to be getting better? Before Trump happened? Naomi Klein, internationally acclaimed journalist, activist and bestselling author, shows us how we got to this surreal and dangerous place, how to stop it getting a lot worse, and how, if we keep our heads, we can make things better. No Is Not Enough reveals, among other things, how Trump's election was not a peaceful transition, but a corporate takeover, one using deliberate shock tactics to generate wave after wave of crises and force through radical policies that will destroy people, the environment, the economy and national security.
Barefoot Investor                                                                                                                                                                                                                             Scott Pape
This is the only money guide you'll ever need That's a bold claim, given there are already thousands of finance books on the shelves. So what makes this one different? Well, you won't be overwhelmed with a bunch of 'tips' ? or a strict budget (that you won't follow). You'll get a step-by-step formula: open this account, then do this; call this person, and say this; invest money here, and not there. All with a glass of wine in your hand. This book will show you how to create an entire financial plan that is so simple you can sketch it on the back of a serviette ? and you'll be able to manage your money in 10 minutes a week.
Love your Gut
Sally Joseph
 Sally Joseph is a leading Australian Clinical Nutritionist, speaker, author and health & wellbeing coach, with over 17 yrs experience in both private practice and industry consulting.  Sally was inspired to become a Clinical Nutritionist through her personal battle with several chronic illnesses, including CFS, Hashimoto's, Lupus and a benign pituitary adenoma. She has worked with Layne Beachley Tom Carroll, INXS, former Australian Cricket captain, Michael Slater, model Lara Worthington, British artist, Tracey Emin and members of the international Quicksilver pro surf team. Dietary requirements aside, this is a beautiful, very accessible cookbook.
Children's Books
Laugh Your Head Off Again
Various Authors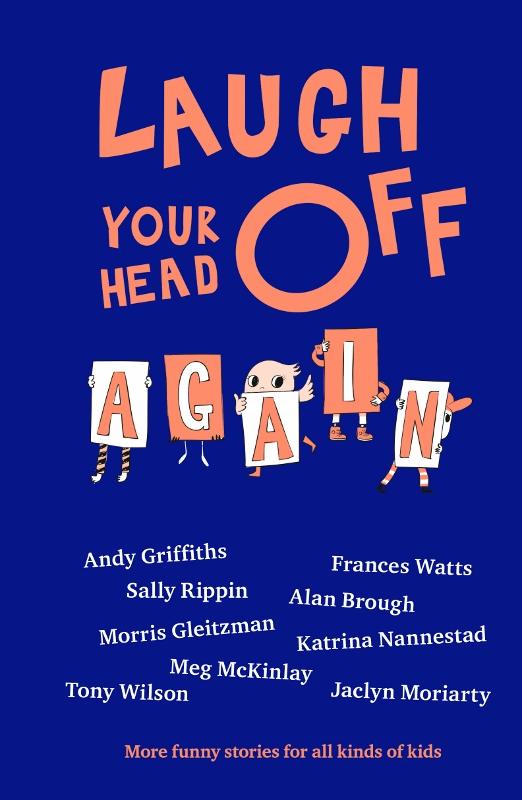 9 authors. 9 stories to make you laugh your head off again. A busting moment + a pet show + a ten metre high concrete tomato + a dog with a knack for trouble + the perfect footy pie + a mischievous monkey + a king on a break from his kingdom + a legendary lunchtime bandit + a llama farm camp. One hilarious book.
The 78-Storey Treehouse
Andy Griffiths and Terry Denton
Join Andy and Terry in their spectacular new 78-storey treehouse. They've added 13 new levels including a drive-thru car wash, a combining machine, a scribbletorium, an ALL-BALL sports stadium, Andyland, Terrytown, a high-security potato chip storage facility and an open-air movie theatre. Well, what are you waiting for? Come on up!
Hotdog!
Anh Do
Meet Hotdog, the sausage dog, and his friends! There's Kev, the goofy cat, who's always dressed up in some silly costume, and Lizzie, the gutsy lizard, who eats bug burgers for breakfast! Together they're going on a mad adventure to help a baby bird find its missing mum! Hotdog and his friends will go to any lengths, and dizzying heights, to find her. But can they handle dirty nappies and karate-chopping roosters along the way?
The Secret Keepers
Trenton Lee Stewart
When Reuben discovers an old pocket watch, he soon realizes it holds an incredible power: it can turn you invisible for fifteen minutes. And the watch's power is even more extraordinary than he knows. Soon, hes on the run from a despot determined to possess it for himself.
The Midnight Gang
David Walliams
Welcome to the Midnight Gang! Midnight is the time when all children are fast asleep, except of course for… the Midnight Gang. That is when their adventures are just beginning… When Tom gets hit on the head by a cricket ball, he finds himself at Lord Funt Hospital, and is greeted by a terrifying-looking porter. But Tom is about to embark on the most thrilling journey of a lifetime! The Midnight Gang tells an extraordinarily heartwarming and, of course, funny story of five children on a hospital ward – and on a quest for adventure!